For some reason, the author of the below hekaya sounds very much like
@Meria
's classic writing style. Very hilarious.
_____________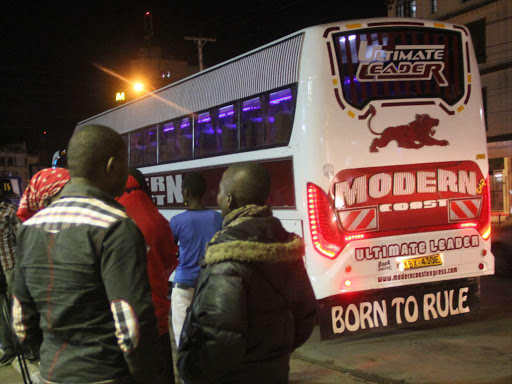 I used to work in one of the big bus companies in Kenya as a conductor. Sasa hii siku moja, I was doing my normal duties of a conductor from Meru to Mombasa. My driver was one Nduki Moto Makopolo and Kata Funua Macharia.
It was a day like any other, but this one day, we bought our daily dose of mgox from the wrong guy. Huyu alikuwa anakaa kama elchapo flani sababu he would tell us eti tunaweza ata nusa huo mgox na stimu zitapanda. I assumed it was the normal salesman hype lakini WUEH!
Safari ilianza fiti, by 1900hrs ngoma ilikuwa Embu, kuchukua abiria wa embu na kumaliza kupeana maji, tukasema sherehe ianze. Our cockpit was one of its kind, sema kaportable mid speaker with bass abilities, madere wanaelewa. We switched off the passenger's speakers and left with our "mziki" speaker.
Nduki Moto had this flash disk that had everything hadi national anthem ya Sahrawi. Bongo ilishika my friend, kamgox kakaleta kesi kwa vichwa, wacha tu. By 2130hrs tulikuwa Nairobi na taxin size ya side mirror. Within a few minutes, we were cleared to continue the rest of the journey. Kata Funua took over from Nduki Moto. Kata Funua was faster than Nduki Moto but the mgox was faster than all of us. At around 2330hrs just before Emali, tukaskia PPSSHHH! The front left tire had just gotten a puncture. Ile cooperation hii team hukuwa nayo tukiwa handas, warass pekee ndio wanaeza kueleza.
Tukaamua kupangana duties ata kama hatujashuka, tukaelewana mimi nikishuka naenda kutoa spare kwa boot, Nduki Moto naye ashuke na jeki Kata Funua naye aseti chini, kufungua ni in turns. Hatungetaka kukatisha handas so we decided kuvuta speaker hadi kwa kioo tukule ngoma tukibadilisha tyre. By the time tumesaidiana kuvuta speaker na kuiseti vizuri, we had already forgotten the roles tulipeana. So kama conductor mzuri nikaamua kuchukua jeki na chuma yake, Nduki Moto on his way down, akachukua key boot, akatoa spare tyre na akafunga boot. Kushuka nikampokeza Kata Funua jeki akaiseti na tukaanza kazi. We did it in turns as we had agreed, kama si turn yako unaketi hapo kando ya Nduki Moto tukikula ngoma na mastori full handas. After around 10 minutes tyre ilikuwa chini, Kata Funua akanigeukia na, "unangoja firimbi ndyo utoe spare kwa boot?" Sema kuchangamka chapchap na kuendea keyboot ndyo nitoe spare. Kufungua boot, Napata spare hakuna, cheesos! How do I start telling my drivers sikuconfirm kama tukona spare all the way from Mombasa? So I decided to check in other boots, yaeza kuwa ni loader aliamua kufanya madoido na upangaji wa boot. I checked all the boots and there was no spare tyre, so I had no choice but face my guys niwaambie ni kama hatukubeba spare.
Luckily, handas hairuhusu mtu awe na temper especially kwa brejin. Mabrathe wakaroroa kidogo then wakaniambia "haya, keti twendelee kungoja bus iko nyuma tuombe spare." I sat alongside them tukaendelea kula ngoma yetu na mastori huku mali ya elchapo inatutoa jasho mbaya.
Kidogo tu abiria wakaanza kuamka wakishuka mmoja mmoja. Wajuaji wakaanza maswali (every crew's nightmare) Tunangojea nini? Kwani gari imeharibika? Hakuna ndugu jeuri kama Nduki Moto akiwa handas, abiria waliambiwa "Hamuoni ni tairi tunabadilisha!" most of them went back to continue with their sleep wengine wakaamua kutukeep company.
After around 15 minutes, one passenger asked the most awkward question. "Kwani mguu wa mbele unakuwanga na tairi ngapi?" I fringed knowing ile jibu brathe atapewa, hatapenda. Nduki Moto turned to him with "ingieni kwa gari sasa, mmeanza maswali haina miguu." When every passenger was in, tukaanza kuulizana ni swali aina gani iyo mwanaume anauliza surely. I got curious about that guy's question and also asked them that same question, Kata Funua looked at me and asked "Pia wewe umeanza…" I stared back at him and asked "mbona basi tukona tairi mbili apa?"
Kuangalia, kumbe allalong chenye tumekuwa tukikalia ni ile spare Nduki Moto alitoa na akasahau kusema. Sema kushtuka na kuabika, tulitema taxin, tukafunga tairi na kuendeleza safari kimya kimya all the way.
Toka iyo siku, tulisema kwa elchapo tena tujikute!
~Hekayist